Penang Island, a Malaysian state that is filled with rich history and culture, happens to be one of the most popular tourist destinations. Also known as the Pearl of the Orient, Penang is known to be a foodie's paradise. Georgetown, the capital of the island is where you'd discover some of the good eats of Penang.
In recent years, Penang has also been coined as the "Silicon Valley of the East" and has the highest Gross Domestic Product per capita across the states of Malaysia.
With Penang's diversity in culture and as a growing economy, it is no longer uncommon to witness the number of personnel in a company growing exponentially in a short period of time. In view of this, there is now a heightened importance on team-building; getting your employees out of the office and spending time together in a much less formal environment will allow for an organic team bonding experience that is bound to translate into the office.
Team building brings people closer together, encouraging them to socialise and make deeper connections with one another – this leads to a positive work environment where people communicate better and understand each other's strengths and weaknesses.
With that being said, let's take a look at the five popular (not listed in any particular order) team-building activities in Penang!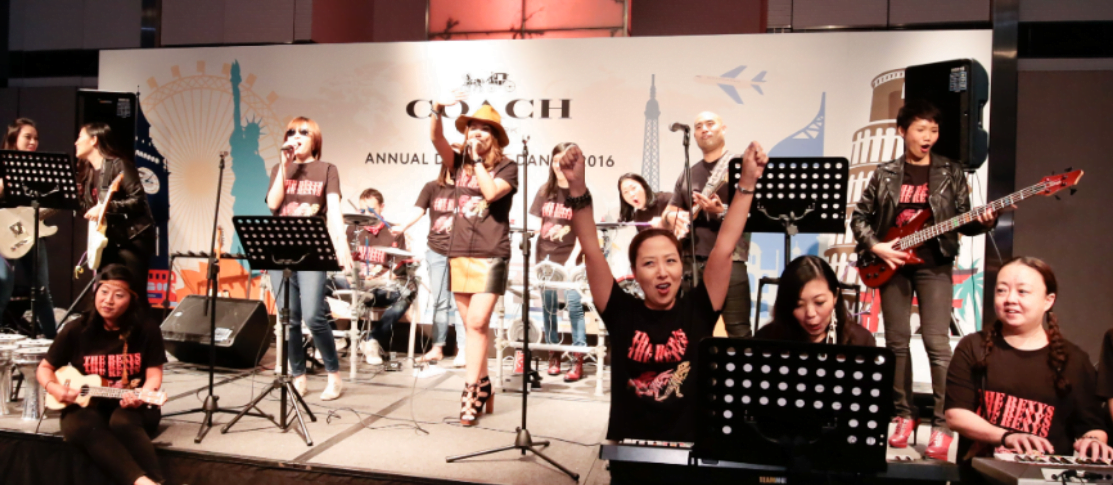 1. TEAM MUSIC
Have you ever been to a concert and found yourself captivated by the music being played by the band on stage? Have you ever had a childhood dream of singing your favourite hit song from Men at Work? TEAM MUSIC is definitely the place to be for such dreams to come to fulfilment!
Bring your team down, and have experienced musicians coaching them on how to play music in a band! This includes the whole she-bang, of having drums, guitars, percussion, ukuleles, bass guitars, keyboards and singers. By the end of each session, you and your team would have played through and be able to perform two popular songs that you regularly hear on the radio.
If that sounds challenging – keep in mind that Team Music has done this hundreds of times, for participants with minimal or even zero musical experience with an extremely high success rate! Each session will see your team be broken down into smaller groups, whereby they would then be attended to by one facilitator whose task is to teach each group on how to play a specific instrument. The miracle happens, when these smaller groups come together again to play as one huge band!
Team Music has won numerous awards over the years, such as Human Resources HR Vendors of the Year 2018 Bronze (Singapore), Best Corporate Team Building & Conference Specialists by Lux Life Travel & Tourism Awards 2019 (Hong Kong), and Most Valuable Companies 2019 for Team Building Innovation (Hong Kong).
Engage your team in a music-filled day and show them that nothing is impossible, with this program that places an emphasis on three values that are cornerstones of a good team: Clarity, Commitment, and Collaboration.
To make the event more memorable, you could even consider hosting it at the Hard Rock Hotel Penang!
Stand-out Features:
Customizable size ranging from 10 to 350 participants, with consistent levels of engagement for all participants

No worries if you have no prior musical experience; that is the whole purpose of this activity: to achieve what you deemed impossible!

Team Music has hosted over 300 companies and more than 20,000 participants.
2. TEAM BUILDING RUNNING MAN L5 SERIES

Inspired by Korea's most popular variety television series, a team building agency in Penang has designed a program that consists of completing a series of challenges in the city.
Choose from 5 themes which suits your team – from indoors to outdoors, there is something for everyone.
A sneak peek of "The Heritage Series" would give yourselves a chance to know the town's heritage while you go on a trishaw trail, participating in a traditional game of chapteh, exploring wall art on some alleyways and go hunting for some delicious local delicacies.
Winners of each challenge would gain points for their team for a grand draw. Needless to say, the team with the most points, stands a higher chance to be crowned the overall winner of the race.
Stand-out Features:
An opportunity to be a tourist with your colleagues

Suitable for all ages

Competitive activity with an element of excitement and fun  
3. WARRIOR OF FITNESS ADVENTURE
How many times have we said to ourselves "No, I can't do it." or "I give up."? Do you believe there is a warrior in each of us?
Conducted outdoors, through physical and mental activities, participants would be able to display their leadership potential and problem solving skills. It also builds resilience in one's character by overcoming the stresses and having the will to complete the task ahead of them.
No one is dispensable in the tasks, as you would see yourselves cooperating and communicating with one another to find a solution to the problem, regardless of the level of leadership you may be at.
Say to yourself, "Yes, I can!" and unleash the inner warrior in you today!
Stand-out Features:
Identify potential leaders

Overcome the "I cannot" mindset

Builds up stronger character
4. THE HABITAT PENANG HILL
If you have thoughts of taking your corporate team building out of the city, you may head over the The Habitat Penang Hill and get in touch with nature.
Take a walk through 13-metre high viewing platform where you would get an awesome view of Penang. A bonus that you'd get on a clear day – seeing the island of Langkawi.
Or, get acquainted with Mother Nature on a guided tour trail walk through the rainforest. Let your sense of touch, smell, hearing and sight experience the jungle's natural habitat.
For the more adventurous, you could go Tree Climbing. It gives you an opportunity to experience how a tree scientist studies (needless to say) a tree. In case you are wondering how safe it is to climb a tree, not to worry as all tree climbing specialists have been well-trained.    
Stand-out Features:
A chance to get away from the city and into nature

Suitable for all ages

Options to go on an easy trail walk or exhilarating high element adventure
5. TROPICAL SPICE GARDEN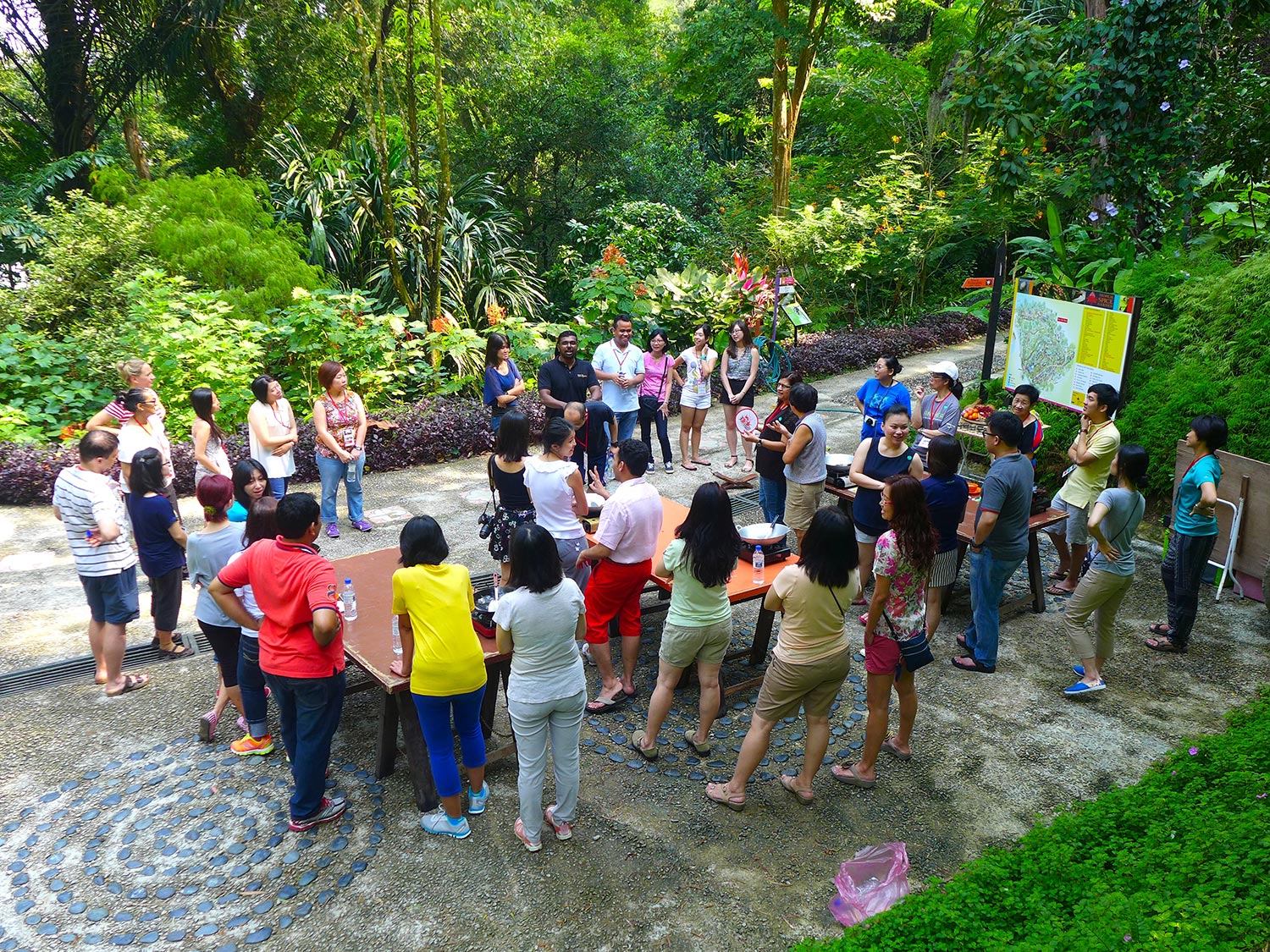 At Tropical Spice Garden, your team-building program could either be customised to your needs or pick one from their list.
Is there a MasterChef wannabe among your colleagues? Then go for a Cook Off challenge. But first, teams would have to go on a quest to hunt for spices needed from the garden. There may be some roadblocks encountered while you go on the search. See how all of you could bond together as a team and gather the ingredients in order to whip up a good dish. Thinking you'd be cooking on an electric induction cooker, or grinding peppercorns with a food processor? Think again…. One would truly be considered a MasterChef if he/she could successfully make a dish using 'old-school methods'.