Vitasoy International
Hong Kong
Top 5 Corporate Team Building Activities in Kuala Lumpur Malaysia
With Malaysia being one of the main financial hubs in Asia, and with the advent of globalisation, organisations and corporations are growing at an alarming rate. It is no longer uncommon to witness the number of personnel in a company growing exponentially in a short period of time. In addition, companies are now hiring employees from varying nationalities. In view of this growing phenomenon, there is now a heightened importance on team-building; company employees need to get to know each other outside of the work environment, in order to foster and enhance team chemistry and camaraderie. With that being said, let's take a look at the top five (not listed in any particular order) team-building activities that can be found in Malaysia!
1. TEAM MUSIC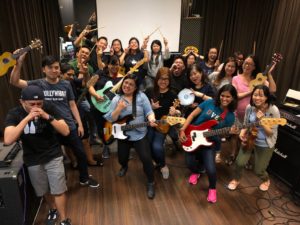 Have you ever been to a concert and found yourself captivated by the music being played by the band on stage? Have you ever had a childhood dream of singing your favourite hit song from Dewa 19? TEAM MUSIC is definitely the place to be at for such dreams to come to fulfilment.
Bring your team down, and have experienced musicians coaching them on how to play music in a band! This includes the whole she-bang, of having drums, guitars, percussion, ukuleles, bass guitars, and singers. By the end of each session, you and your team would have played through and be able to perform two popular songs that you'd hear regularly on the radio.
If that sounds challenging – keep in mind that Team Music has done this hundreds of times, for participants with minimal or even zero musical experience with an extremely high success rate! Each session will see your team bebroken down into smaller groups, whereby they would then be attended to by one facilitator whose task is to teach each group on how to play a specific instrument. The magic happens, when these smaller groups come together again to play as one huge band!
Team Music is definitely an activity for teams, to show them that nothing is impossible, with an emphasis on three values that are cornerstones of a good team: Clarity, Commitment, and Collaboration.
Stand-out Features:
Customizable size ranging from 10 to 350 participants, with consistent levels of engagement for all participants
No worries if you have no prior musical experience; that is the whole purpose of this activity: to achieve what you deemed impossible!
Team Music has hosted over 200 companies and more than 9000 participants.
Instruments will be provided, so all you need to bring is yourselves!
2. JUMP STREET ASIA

It is time to bring your team out and work them hard… but in a fun way! Jump Street Asia is a platform for teams to head out to a play area full of professionally-equipped trampolines. You would be surprised at the number of people who have never attempted jumping on trampolines before! This is an extremely fun activity, and includes having professionals guide you in trampoline-centred team games, such as playing dodge ball while bouncing on the trampoline.
Stand-out Features:
Function room is available for hire if there is need for a briefing/meeting. There are also breakout rooms where smaller teams can gather.

Great for big teams too – this event is meant for a minimum of 10 people.

There will be a dedicated host attached to your team at all times, teaching you proper technique and safety requirements.

Catering is available as an additional hire.
3. LOST IN KL

Lost in KL involves the use of numerous reality escape rooms, and is sure to strike a chord with the adventurous side of your team! You and your team will be locked inside pre-set scenarios, and will be required to find clues, solve puzzles, and execute actions to escape out of a room within a time-limit of 45 to 90 minutes. This team-building activity is bound to enhance communication and co-operation within your team.
Stand-out Features:
Lost in KL can customise escape games based on your chosen venue. This means that if you plan to have an outdoor BBQ, whilst having an outdoor team building activity – Lost in KL should definitely be one of your choices!

There will be varying rooms, of differing difficulty levels.

No minimum number of people required. Maximum occupancy would be 65 people.

Highly realistic ambiance and sound effects in the rooms give participants a well-rounded experience they will not forget!
4. THE COOKING HOUSE
The Cooking House, is about whipping up a full course meal as a team, where you and your colleagues will be dressing up in aprons and be all ready to cook together! While things may get messy, this would definitely be a sight to remember. The Cooking House places an emphasis on commitment and self-belief, and requires no prior experience in the kitchen. Professional trainers will be attached to your team at all times, so all you have to do is let loose and have fun!
Stand-out Features:
Opt for either a half-day or full-day course

There are 8 different programs to choose from!

Programs can be held either in English, or Malay.

Different cuisines will be on offer.
5. BELUM ADVENTURE CAMP

Do you find yourself wanting to bring your team closer to nature, whilst having a good exercise session together? Then do consider this activity, which is based around high intensity thrills and adventures. There will be rock-climbing, raft-building, and even canoeing during the course of the event. There will be professionals attached to your team, to ensure safety. This is an activity that will definitely push your team to their physical and mental limits, helping to build your team's character, levels of perseverance and risk taking and improving their communication. They may wake up with body-aches the next day, but this gruelling but fun experience would definitely be one they remember, sowing the seeds for stronger bonds and friendships.
Stand-out Features:
There are a vast array of programs available, with each program consisting of different outdoor activities.

As they are staffed with employees of varying nationalities, the program can be catered to both English and Malay speakers.

You could choose to have your team be engaged in outdoor activities, and then have a company meeting by the beach!

Team-building activities can be tailored and customised for your needs.